Globally positioned to craft mechatronic systems.
Aditya is a specialized automotive supplier of mechatronic systems, precision components and motors with capabilities spanning right from concept to production. One in three vehicles made in India is fitted with an Aditya product.
LEARN MORE
Highlights
14-Mar-2017
Mr. Akshay Raveendran of Aditya wins the 2nd place in 29th CII Regional Skill Work Skills Competition organized by the Ministry of Skill Development and Entrepreneurship, Government of India
9-May-2017
Mr. Srinivas Kudligi of Aditya participates as a panel speaker at "Seminar on Rotating Machines" at Indian Institute of Science, Bangalore, India.
25-May-2017
Aditya is a co-associate sponsor and key participant in the International Automotive Supply Chain Conclave 2017 held in New Delhi, India
21-Jun-2017
Aditya launches company wide suggestion scheme as part of its employee engagement initiatives
23-Jun-2017
Mr. Murali Subramani of Aditya felicitated by Mahindra for successful project completion of Six Sigma Black Belt Program at Mahindra's Supplier Meet in Mumbai
16-Jul-2017
Aditya launches new re-branded identity at Hotel Mövenpick, Bangalore.
18-Jul-2017
Aditya confirms participation in "Skill-India" certification and training program organized under the auspices of Pradhan Mantri Kaushal Vikas Yojana, a youth empowerment initiative of the Government of India.
16-Aug-2017
Aditya Auto's Industry 4.0 implementation story published in CXO Insights magazine. Follow here: https://bit.ly/2zaUH8v
5-Jan-2018
Awarded the highest grant by the Government of India for spearheading the development of next generation motors for electric vehicles.
20-Sep-2018
Aditya Auto's Pune facility is certified 'A' by Volkswagen AG - VDA 6.3 Process Audit.
Client Speak
A World Class facility – A pleasure to review. Thank you!

---

Deborah Henderson

Vice President - Quality (Global), ArvinMeritor LVS, USA
World class systems to drive the business!

---

Vaysse Christophe

Program Manager, ArvinMeritor LVS, USA
The products produced here are very interesting to us and we look forward to working with you

---

June Aiello

Procurement Director, ArvinMeritor LVS, USA
Very clean & tidy, well organized management. Good lean manufacturing

---

Charles Wilhelm

Director, XY Europe, France
We have seen a very innovative company. Most impressed was from the motivation and experience in management.

---

Rolf Prettl

CEO, Prettl Automotive, Germany
A company driven by a high professional team oriented people. The culture of the company makes all the difference.

---

Thomas Klein

CEO, KRAH RWi, Germany
Very good impression. Clean, well organized factory with good processes in place.

---

Jean-Philippe Vidonne

Commodity Lead Buyer, Plastic Omnium, France
Very impressive plant. Extremely pleasing staff. Spic & Span factory. Good luck for a great future!

---

Raghuram Hariharan

ESAB, India
Aditya is well prepared for future business. Excellent quality mindset and High motivated team.

---

Joachim Albert

VP – Purchasing, Bosch Gasoline Systems
Very clean set up. Kaizen and quality mind-set can be seen through out the whole company.

---

Walter Wenk

Director, Bosch Gasoline Systems
Excellent company with innovative ideas of maintaining quality.

---

Basaralu Sudharshan

Knorr Bremse, Germany
Very impressed with the efficiency of the overall company its was refreshing to see that the philosophy comes from the top cascades down. Keep focusing on "MUDA" elimination across all facets of the business.

---

Rudy Peterson

Autoliv Asia
Simple, yet lean and quality focused assembly processes. Keep it up!

---

Ryan Pereira

Dura Automotive, USA
A model company which can inspire lot of other companies to achieve zero breakdowns, zero rejections & zero accidents. I might have witnessed such a high level of 5S only in a company in Japan.

---

Jamil Ashraf

National Director, UNIDO, India
A dedicated team focusing on success, a process under control. A Quality systems running well. Aditya has all the facets to succeed in our project.

---

Gilles Dupont

ArvinMeritor LVS, France
Trusted By
Featured Product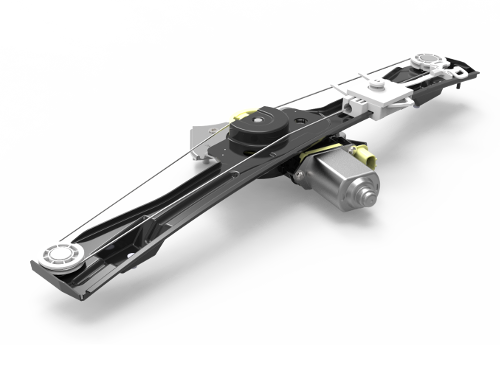 Drum & Cable - Banjo
Integrated stamped rail - reduced part count . Low cost solution . Configurable with Aluminium or Steel Rails . Grease-less design for lifetime lubrication
View More Products
Capabilities
Full Systems Solutions provider from Concept to Production.
Learn More